Get inspired.
Get inspired.
Get inspired.
<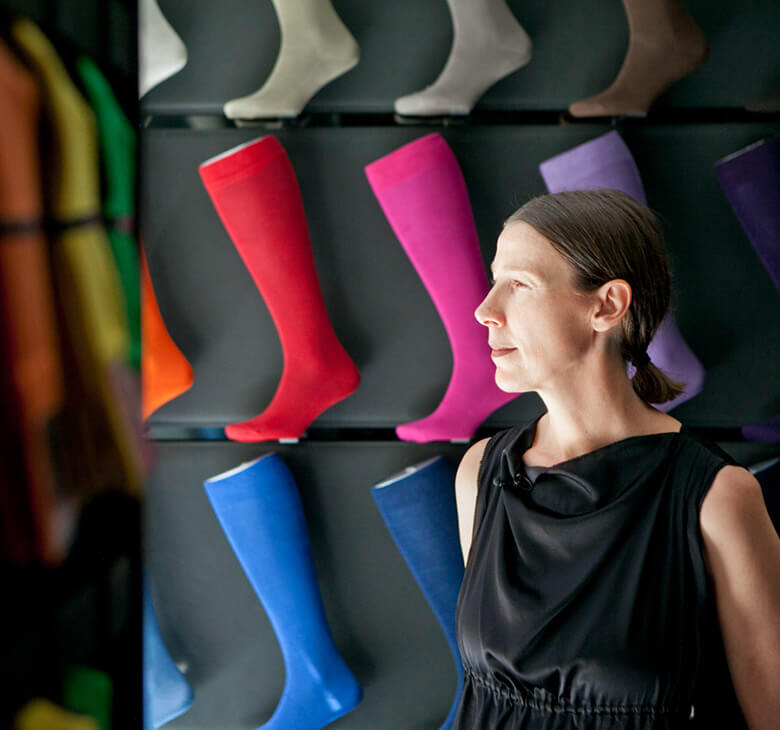 >
Quiet, never loud
Sabine Keggenhoff creates "places for winding down" – among them, the FALKE store on the Rennweg in Zurich.
I create a stage on which the protagonist can move freely.
Sabine Keggenhoff designed the FALKE store on the Rennweg. The interior designer sees herself as a traveller and discoverer. In Zurich, she seeks and finds her very personal places for winding down.
Sabine Keggenhoff attracts stares. There's no doubting it. I follow her through the city: Her simple black dress, severe hair and slow walk – seemingly unrushed and aimless – makes her stand out from the other passerby on this hot summer day in the centre of Zurich. Squeaking streetcars rattle by, relieving one another. Tourists and locals throng across the intersection, but she stays where she is. The traffic lights change from red to green. People stream past her. She waits – behind her, the horizon, Lake Zurich and, in the distance, the snow-covered mountains.
We walk into Sprüngli, in the heart of the Old Town – outside, on the cobblestones, there are two-dozen coffee house tables full of tourists and, inside the giant tinted glass windows on the ground floor, the chocolate shop. It's big and colourful, with countless glass cabinets displaying works of confectionary art. Everything fits, because it is as it always was. Of course, there are also tourists, but according to Sabine Keggenhoff, they all stay downstairs. "Upstairs, on the first floor, it's Zurich locals with their newspapers, their coffee, enjoying themselves as they would in a Viennese coffee house, where you can be but don't have to be. That's how the whole city is, really. I like that a lot".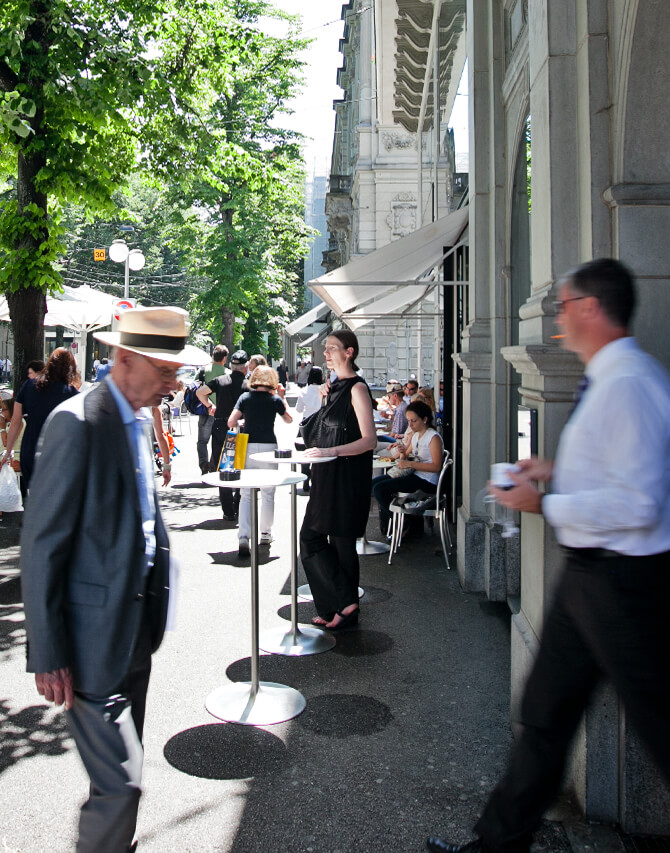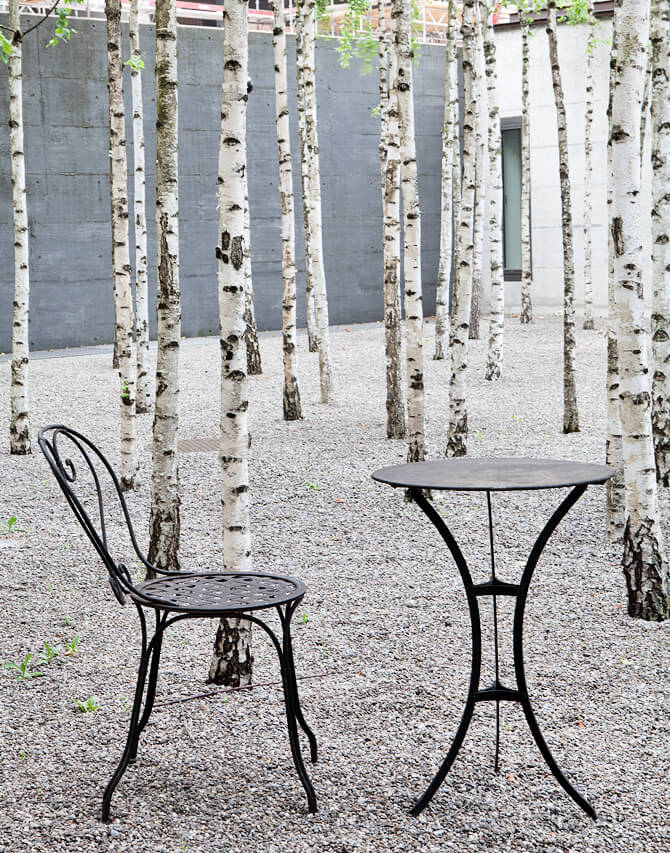 How do you, as an interior designer, see the city?
"Zurich is a harmonious blend of candour and history. Many Europeans – many that work in design, in architecture – come and make a home here. Respect, on one hand, and openness, on the other, open up a lot of perspectives. Here in Zurich, I like the traditional. I'm not looking for the experimental. I spend a lot of time on construction sites, which means being around a lot people, a lot of concentration and tight time frames. In order to escape that, I look for the exact opposite: so I like to go to Kindli, the Kronenhalle…Those are traditional restaurants: wood-panelled, with a calm atmosphere, very solid workmanlike appeal, unagitated. Or the Greulich: a hotel, bar, restaurant. That's a very special place. There is a courtyard with birches, a couple of chairs made of iron, gravel…it's a place where you can slow down. I don't like over-designed places. I prefer places where you can see character. It doesn't need to be perfect. It should be something you can feel".
How do you work?
"The process is always the same. You need to analyse the store, see where it all happens, so that you can intervene sensitively. Our firm, KEGGENHOFF | PARTNER, always tries to go deep, and not just execute what the client wants, but asks what fits, what story they want to tell…surfaces, lights and shadows, those are topics that are always present and accompany the process. We don't think of ourselves as people who decorate space. We try to conceptualise, do honest, grounded work. We try to translate the brand and entrepreneurial philosophies, create sustainability. I think that both architecture and interior design are about the ability to see and develop oneself, to assume responsibility, to not be arbitrary".

Sabine Keggenhoff likes to use the word "sustainability". It almost seems like it was created for her – it seems to summarise her work, her style, her philosophy. The ephemeral isn't important to her. She's not making fast food for breathless consumption. She places greater value on permanence and stability. That's what Sabine Keggenhoff's ideas are about, and that's why she was brought to Berlin to design the FALKE store on the Kurfürstendamm. Now she is in Zurich, where she discovers, for us, the city anew.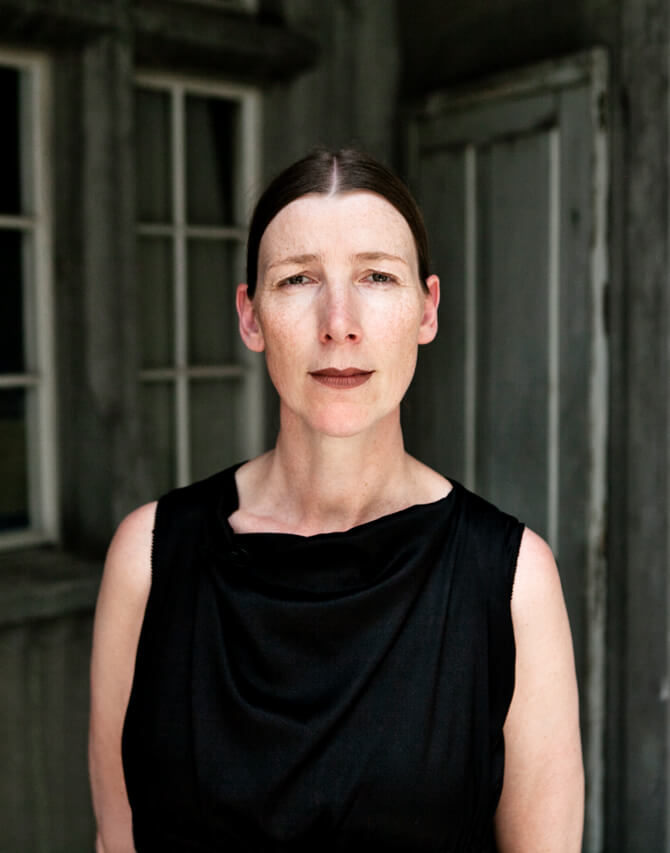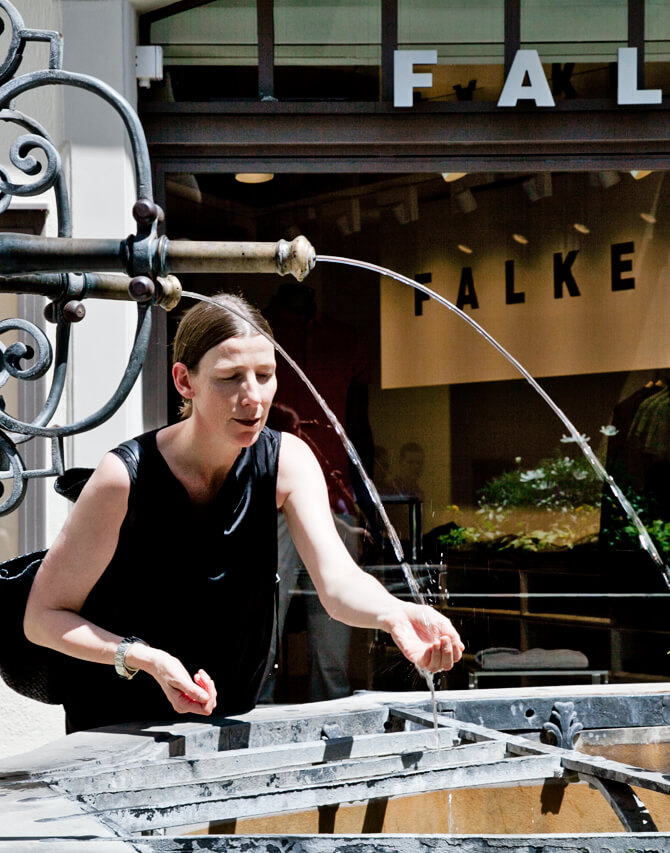 FALKE entrusted you with the construction of the new store on the rennweg. Why here?
"We are in the first district, which has a very special significance for Zurich: a combination of spaciousness and international flair. There is always something to discover. The Amazonenbrunnen (Amazon Fountain), next to the FALKE store's new location, for example, is like a generation-spanning source of life. That's why we took out a wall in the new store and put in a window to the outside. Now, if you want, you can watch the locals come and bend down to drink. It is very nice to see".
And, as it turns out, again and again, passer-by step out of their thoughts and bend over the old walls of the big fountain, which is fed with fresh water by a picturesque tower. In a practised manner, people purse their lips and drink directly from the running stream of water, eagerly imbibing the liquid, and then quickly go on their way again. Nobody queues or waits – if they can't drink here, then they'll do it 100 metres further, at another fountain. The city is full of them. It's a moment to stop, to pause, to wind down. I'm starting to understand Keggenhoff.
The building was constructed in 1539. How did you deal with this inheritance?
"It's like a museum here. It wasn't simple. A lot of back-and-forth with the relevant authorities. We had to watch out for thousands of things…we created passageways, connected rooms, which was necessary for a variety of reasons. And then always the question: What do we want to do, what's necessary? Is it really an improvement? What will change? What will we need to do in these rooms in the years to come"?
I follow her into the store. There are customers, male and female. A bold modern interior, raw plastered walls visible behind the simply arranged premium products. The vaults above me, with their big stone arches, create a warm feeling, hinting at the building's extensive history. She waves me over. I follow her and climb a white-painted staircase. And suddenly I'm standing outside, overlooking the roofs of Old Town. The tops of three massive houses come together here, exactly where I'm standing. Everything seems to be from a different era, various materials finding their use: sometimes brick, sometimes raw stone. Mortar breaks through plaster, old wooden doors with weathered iron mountings that haven't been opened for decades. These all coexist in close proximity. When I look around, I am alone.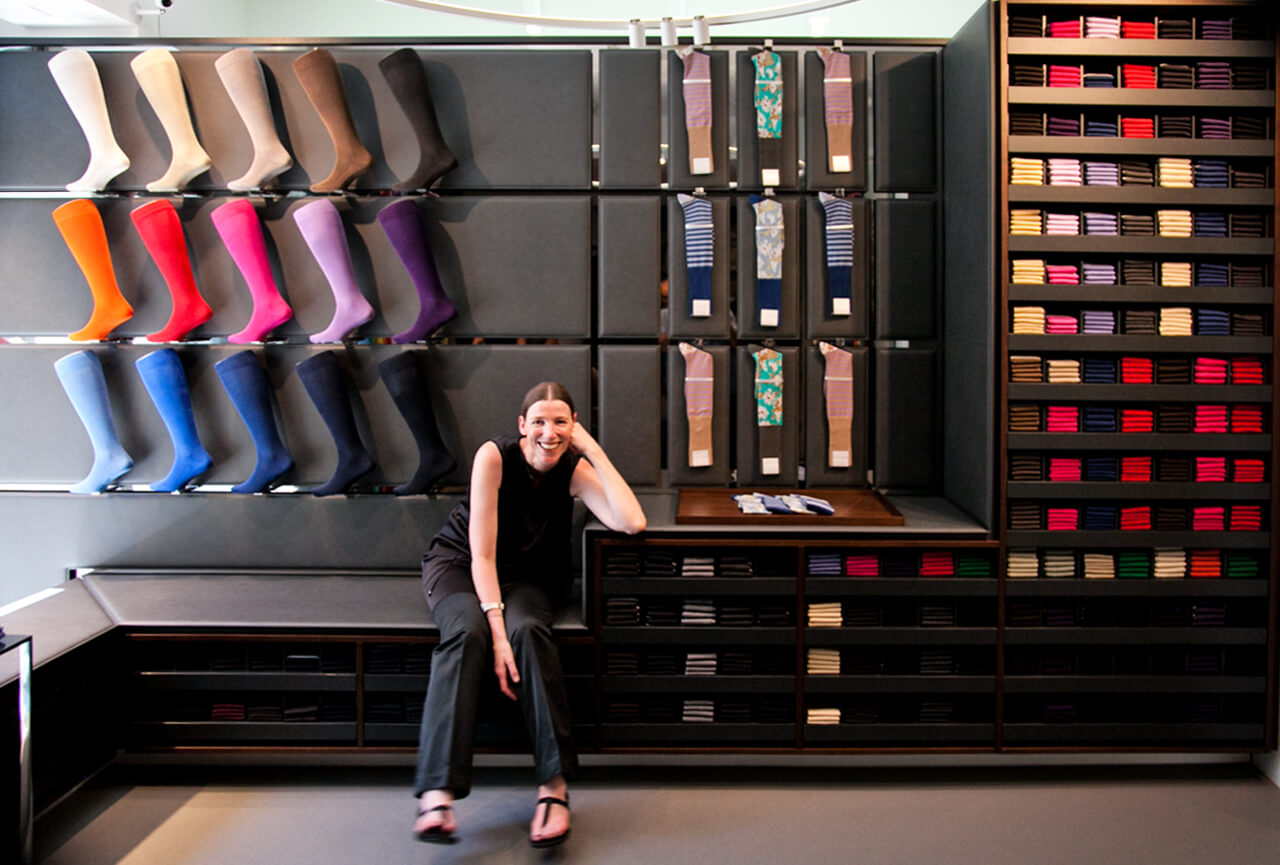 KEGGENHOFF | PARTNER was recognised by the Best Architects Awards '14, as well as the Iconic Awards 2013 for the work on the Zurich FALKE Store.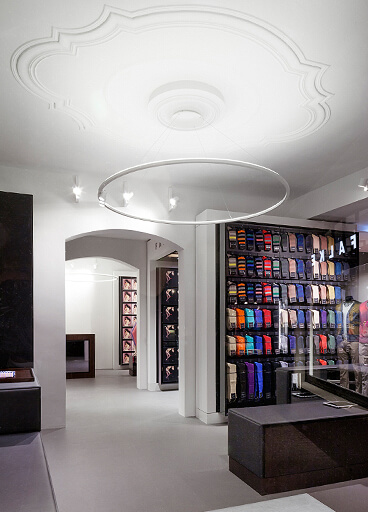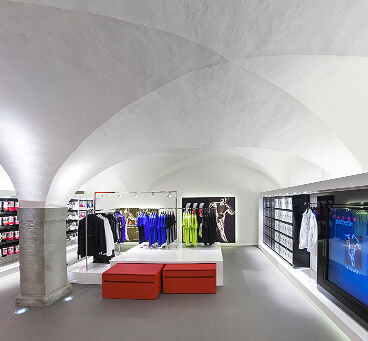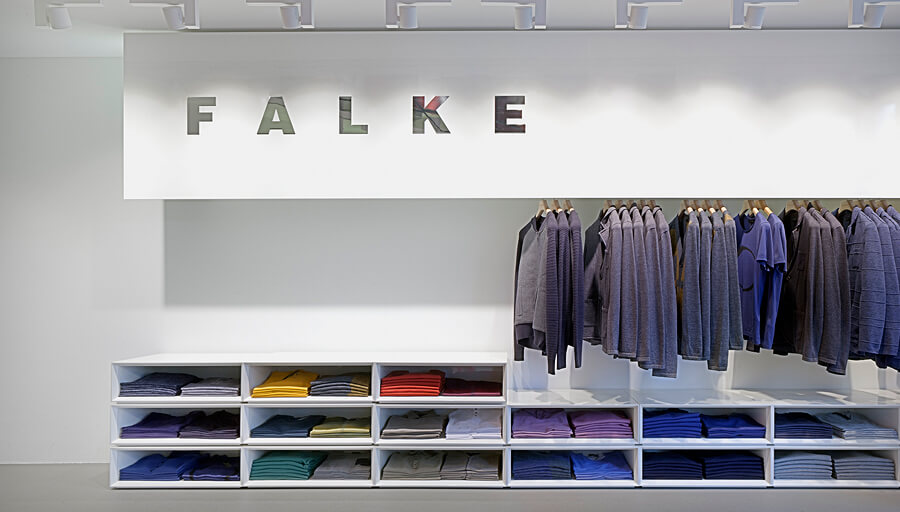 I find Sabine Keggenhoff in front of the displays on the ground floor. She appears busy, looking at some of the arranged products, lost in thought. A saleswoman comes by and tries to help her. She doesn't seem to recognise the interior designer – to her, the woman in the black dress is a customer like any other. Sabine Keggenhoff allows herself to be shown a few products, passes the material through her hands and listens. I make eye contact, give her a signal and walk outside. I'm drawn to the fountain, as if by nature. I bend over the old stone wall and drink the water. It is, first and foremost, cold. A young woman walks up and digs a plastic bottle out of her bag, waiting for me to finish. I drink the cold liquid eagerly, and wipe my face and hands. I look to the new store's big window: Sabine Keggenhoff is standing on the other side and watching me, smiling.

Caption: KEGGENHOFF | PARTNER was recognised by the Best Architects Awards 14 as well as the Iconic Awards 2013 for their work on the Zurich FALKE Store (www.keggenhoff.de).
Text and photos by Jo Weissgerber