Get inspired.
Get inspired.
Get inspired.
<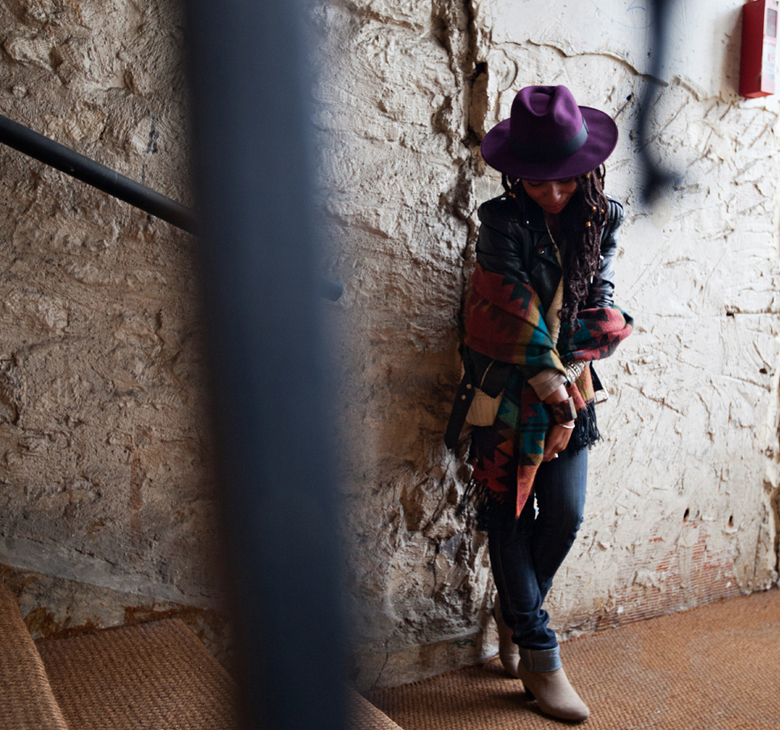 >
Laëtitia Dana enchants the hearts of Paris with her soulful voice.
Laëtitia Dana enchants the hearts of Paris with her soulful voice. She's a young musician who turns the city's pulse into the beat of her songs.
We meet across from the Gare de l'Est, in Le Café A - a part of the Maison de l'architecture on the Île-de-France. The outside of the building has a modern, square colonnade; the inside is an old brick loft with broken-through passageways and a few simple pieces of wooden furniture. The visitors look busy and art-obsessed; laptops open next to steaming lattes. Everything looks carefully arranged, urbane, cool and artsy. Laëtitia fits into the surroundings. After all, she selected the meeting place for a reason: When she walks into the café, nobody recognises her except us. "C'est normale ici...no big deal".
Black leather jacket, bright scarf, dark straggly hair, a sprawling Borsalino on her head - '80s retro and vintage chic mixed together. She beams at me, sexy and appealing. "My English is not that great...Parlez-vous français?" The ball's in my court, I shrug my shoulders. Then how do you sing most of your songs in English? "I always compose in French first. It's very intimate. I can put my darkest thoughts on paper - they're between me and my white page. Then I try to formulate the same thoughts in English and I show it to some people, ask them how they like it, do some corrections, et voilà!"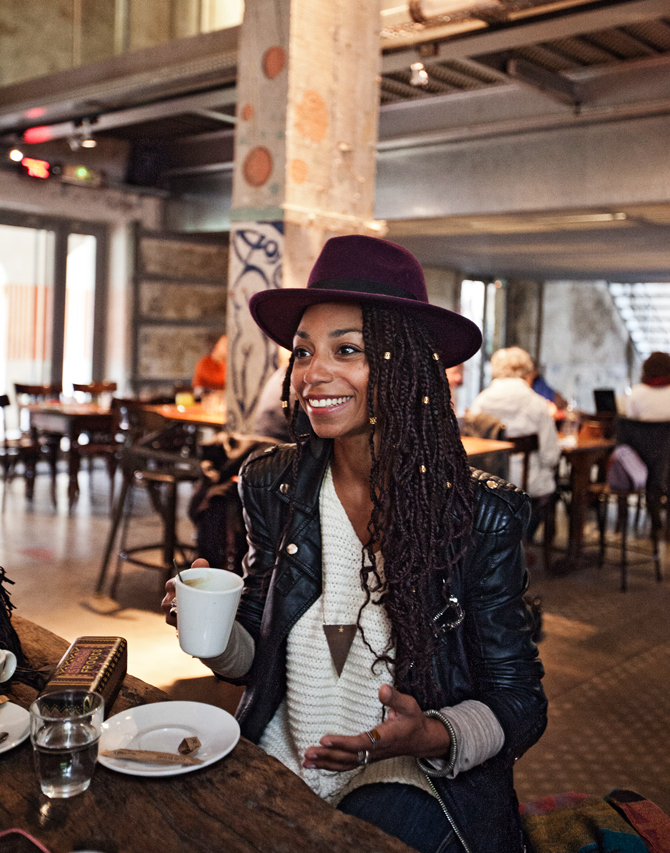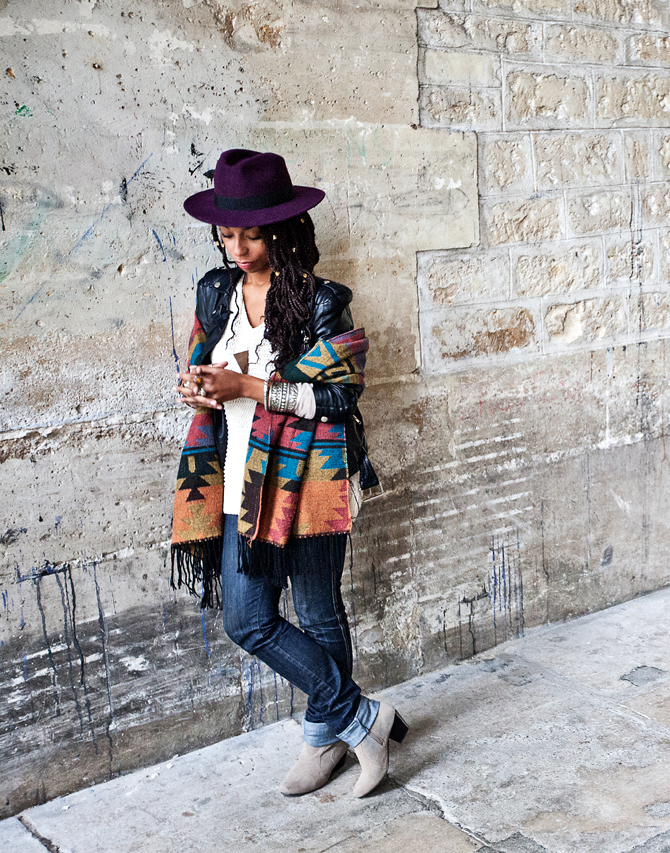 It's too loud in the café. An event has just finished and people are streaming in, besieging the small counter. We step through the rear exit into the neighbouring staircase and suddenly we're in a different world: A spacious, old Art Nouveau stairwell with rusted railings, shabby walls and chaotic graffiti - the kind of thing you'd expect to see in East London or in Brooklyn. Who told you you can sing first? "It was my mirror".
When I was small, I stood in front of my mirror and sang everyday
"Then one day my mom heard me and said, 'Pas mal...not so bad'." Laëtitia's mother takes her to a talent show where the five-year-old sings a Creole song with lots of whooping and rhythmic sing-song: "AIihhhhiiiiaaaaiiihhhhh". Laëtitia takes a deep breath, and suddenly transforms herself. As she lets out her wonderfully silky, soulful voice, her entire body starts to sway.
After two bars, she stops again, keeps talking. Laëtitia's breakthrough moment comes a little later. She comes from a humble background and, like other girls, needs to find work after finishing school. She takes a job as an office worker and keeps singing. "I used to sing on all of my friends' voicemail. One day an agent heard my voice". Laëtita gets her chance - she's booked as the "opening act" for Michael McDonald at the Casino de Paris - a giant concert hall. After that, she knows what she wants: She quits her office job, starts hanging around other musicians and working on different projects.
I love making people smile.
"When I'm singing, even if I'm singing about dark subjects, like in the song MEANNESS & PROFITS, there is always a touch of optimism. It's important for me that, at the end of each of my songs, people in the audience have a smile on their faces. I'm an angel that smiles". What inspires you? "The urban music of the '90s influenced me a lot: girl bands like TLC and Destiny's Child, or R&B groups like The Fugees or Lauryn Hill".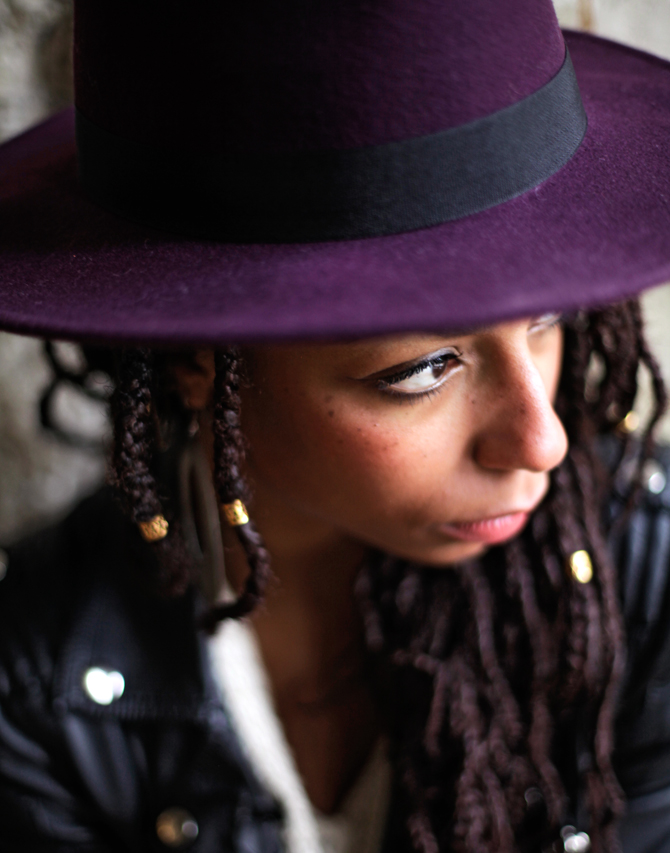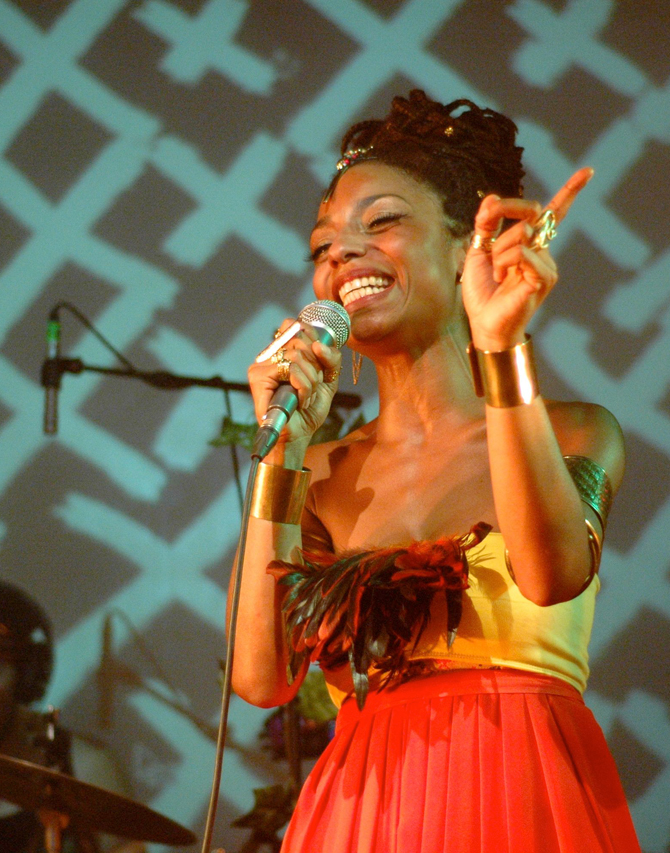 As a French Parisian soul singer who only performs in English, how did you break into the market? "Once I found my music, I found some musicians. We started performing in different places and I started collecting ideas for new songs". But Laëtitia doesn't find anybody who will release her music, so she takes it into her own hands. She founds her own label, FRESH RECORDS. She finances her own studio time, creates her own CDs and sells them herself, earning the money she needs with live performances. After just a few months she's able to release her new album. Facebook and her growing network do the rest.
The crowd went nuts… the audience loved my music.
You've worked with a lot of interesting people - The Pharcyde, Baba Jones - how did you get in touch with them? "It was actually the other way around. Pharcyde's agent heard of me and asked if I would perform as an opening act for them at the LITTLE CASINO - which was huge. The crowd went nuts. After that we went tour as the opening act for Chestnut in all kinds of French cities, and the audience loved my music. After that, we were offered a contract".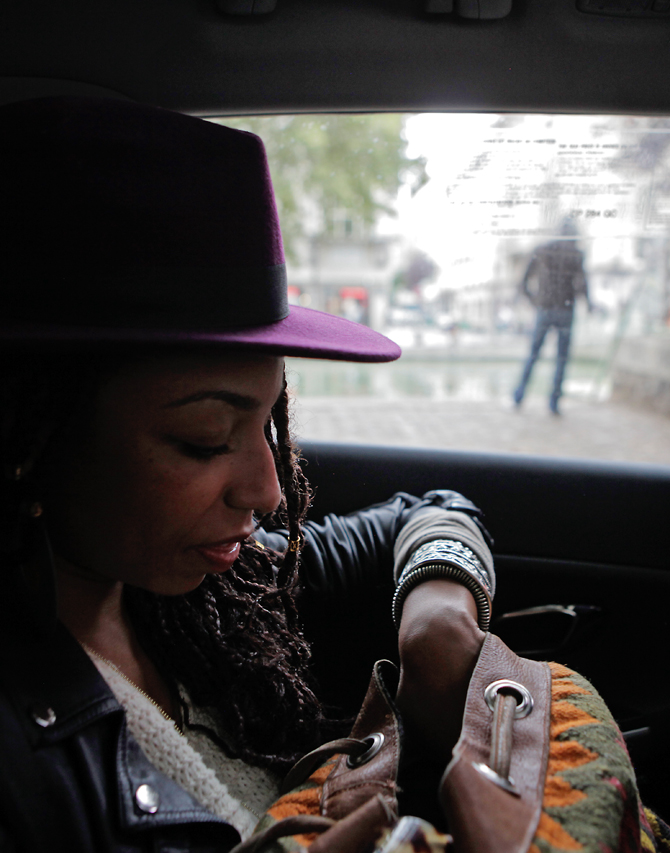 A little while later, we get into a taxi. Laëtitia wants to show me her quartier in the eastern part of Paris. It's something very different, less chic and expensive than where we just were. The taxi driver understands English and chimes in: It's his favourite neighbourhood too, a place where things are still real, untainted. The two of them immediately begin talking in the flowing, insane sing-song Parisians use to shut out the rest of the world. Then they feel bad and switch back to English. I learn our taxi driver is named Kraim and, like Laëtitia, has North African roots. He is very worldly, looks a bit like Tom Waits and seems, like him, to have experienced a lot in his life. The meeting seems arranged, the man so similar to Laëtitia, who is capable of creating a kind of intimacy and complicity so quickly. Then I remember it was me who hailed the taxi.
If you smile at people, you'll always get laughter back, even here, in Paris.
When we get out of the taxi, I get his phone number. À bientôt. I can't believe it: a friendly, courteous, English-speaking Paris taxi driver who is nice to tourists. Laëtitia sees my astonishment, and laughs heartily - it's all about what you bring to the encounter.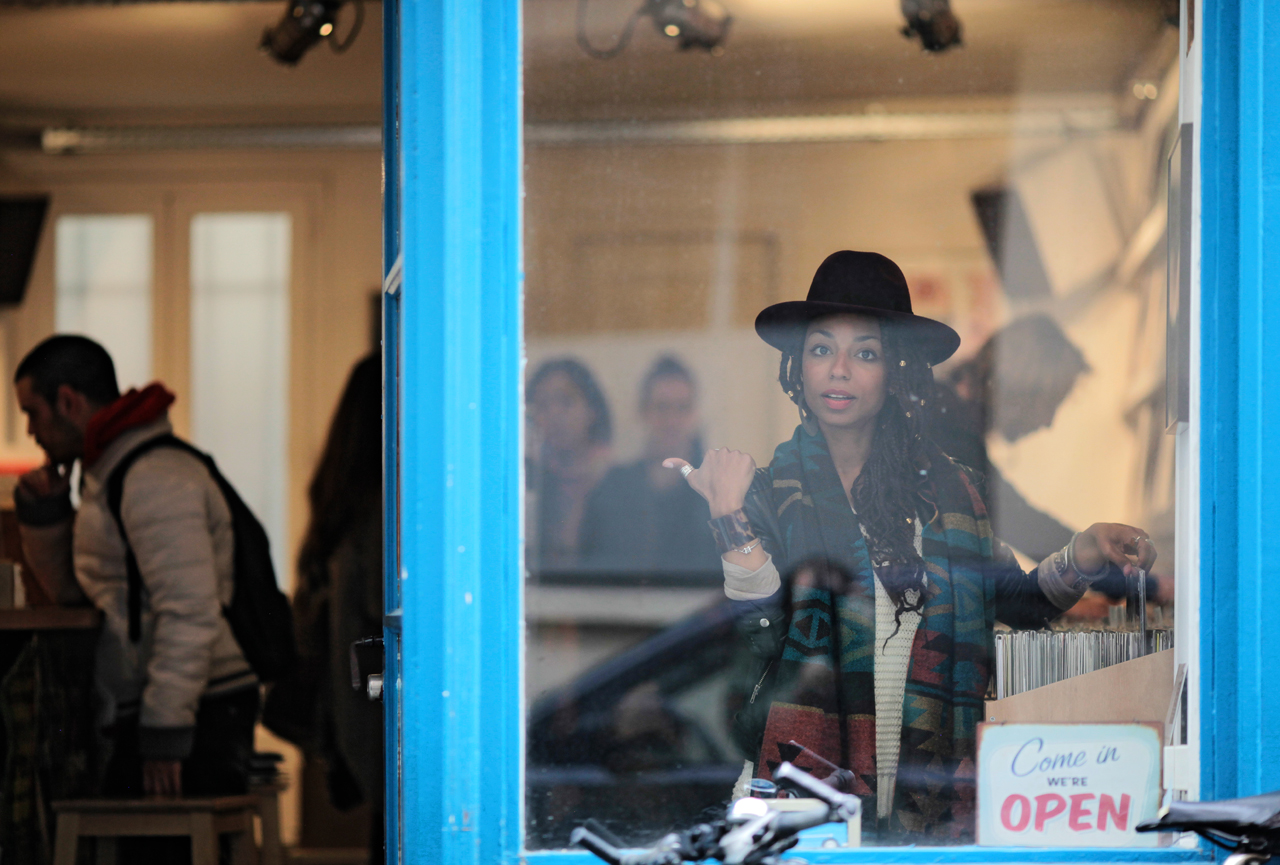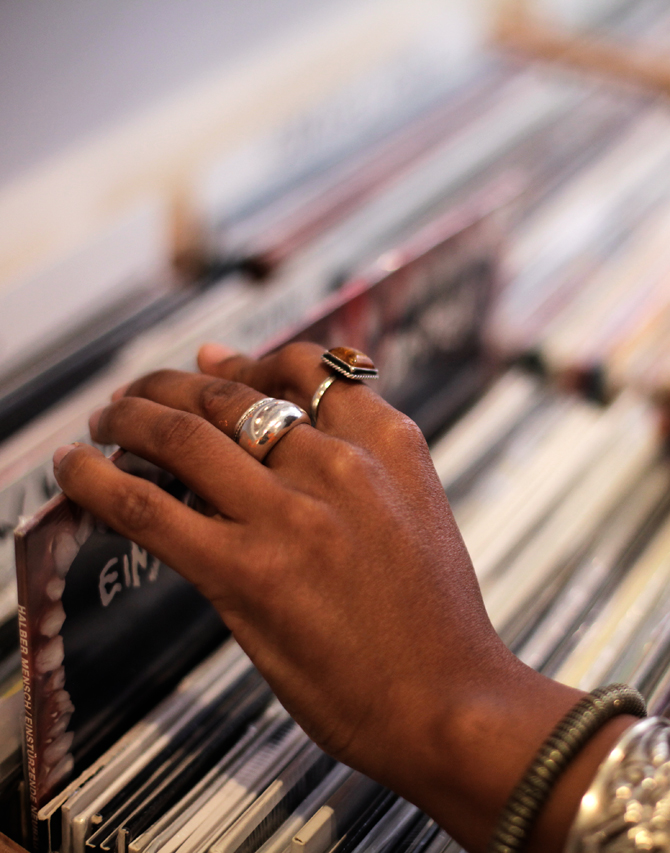 We enter L'International Records, a small record shop concealed in a small side street. Nothing but vinyl, old records organised in simple boxes, as if time had stopped in the '80s. Thudding drum and bass floats in the air, the young man behind the record player teetering dreamily to its beat. The newest Paris club music, he tells us. Vinyl is back. He knows Laëtitia. It's all cool. It's no problem if we shoot here a bit.
What would you say to a young singer who wants to follow your path? "You need to be strong and persistent. It's no straightforward path. It's complicated. People aren't going to be jumping to get at you. Never sell out to the commercial stuff, whatever you do! Even if people don't believe in what you're doing, as long as you believe in it, you can convince anyone". Laëtitia is a strong woman. I think she could do anything with her confidence. Thank God she chose music.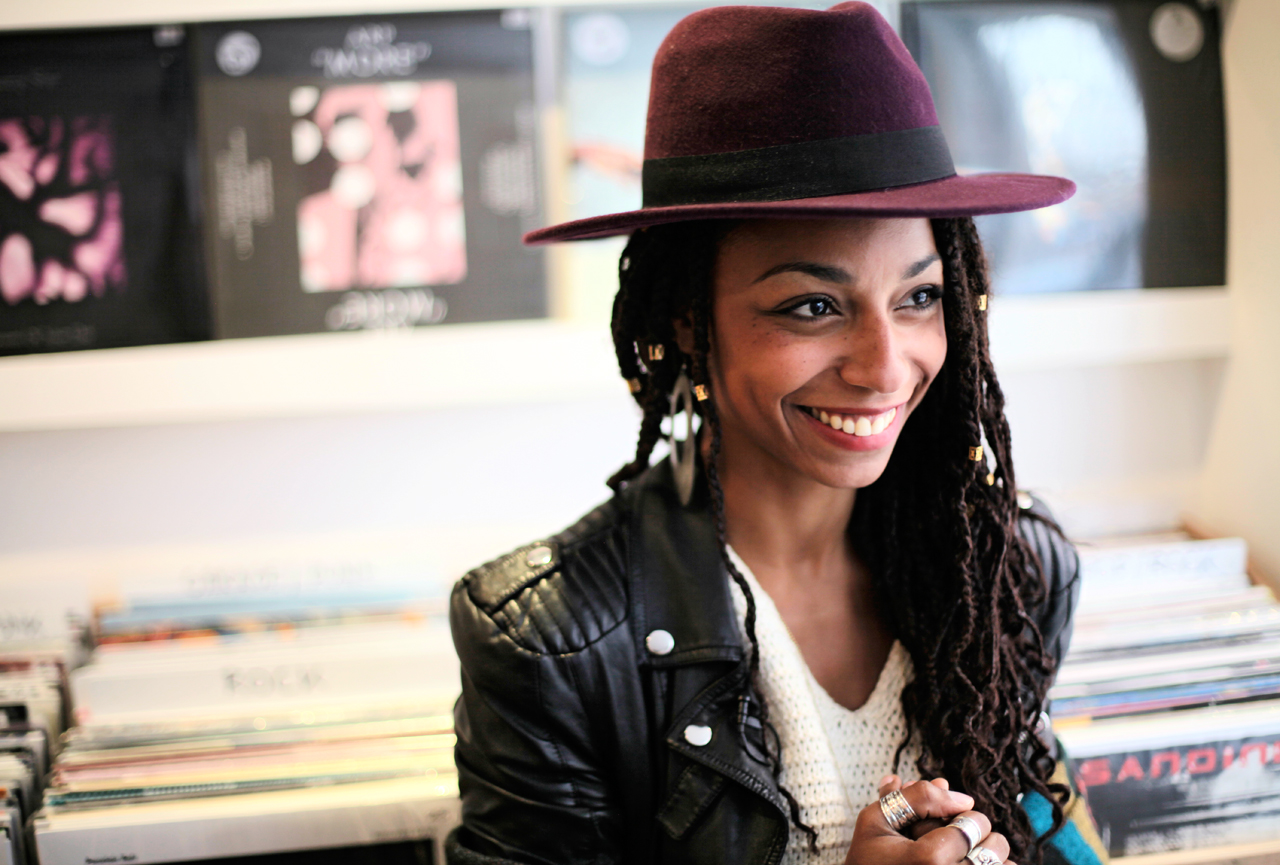 I ask her if one of her records is here, perhaps we could listen to it...she smiles at me. "I can sing something for you". Of course, I say. At this point, the young employee has turned down the old stereo system and Laëtitia starts rapping.
A simple groove, like a heartbeat, then comes the soul.
Her syncopated singing voice breaks in, as she floats along with the throbbing beat. She's beat boxing - her entire body vibrating to a deep rhythm, free, without any instrumental accompaniment. Rhythmic breaks push the beat forward, a strong pulse in her ribcage that thumps like a heartbeat. After a while I hear other musical instruments slowly, formally being introduced. First the guitar, distorted and soulful - as if Johnny "Guitar" Watson was standing behind the counter himself - then the bass, and suddenly it's there, that big feeling, the excitement that entrances thousands. She shuts her eyes. Laëtita is back where she started, only this time without a mirror. At home with herself.

Text by Jo Weissgerber
Photos by Martin N. Kunz, Jo Weissgerber, Damien Paillard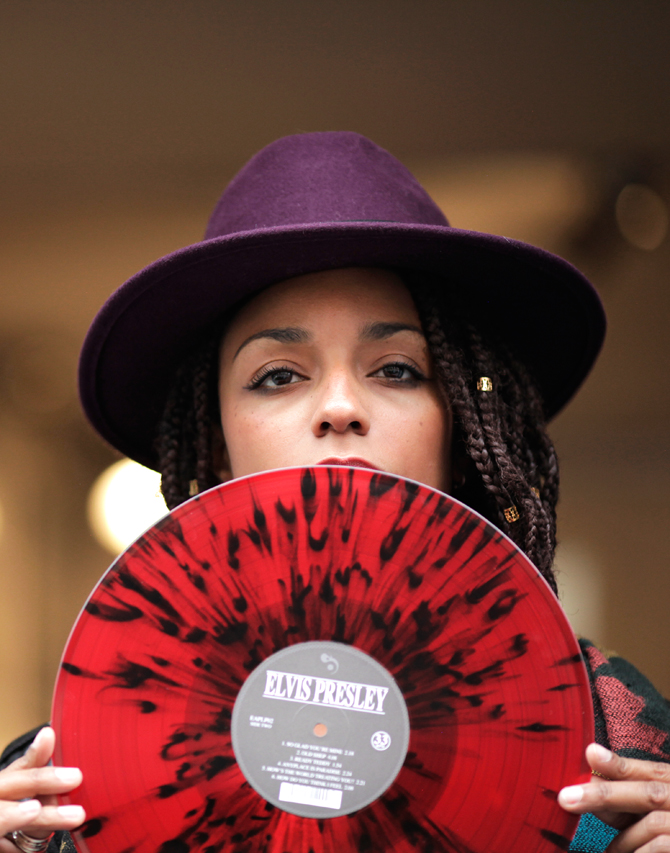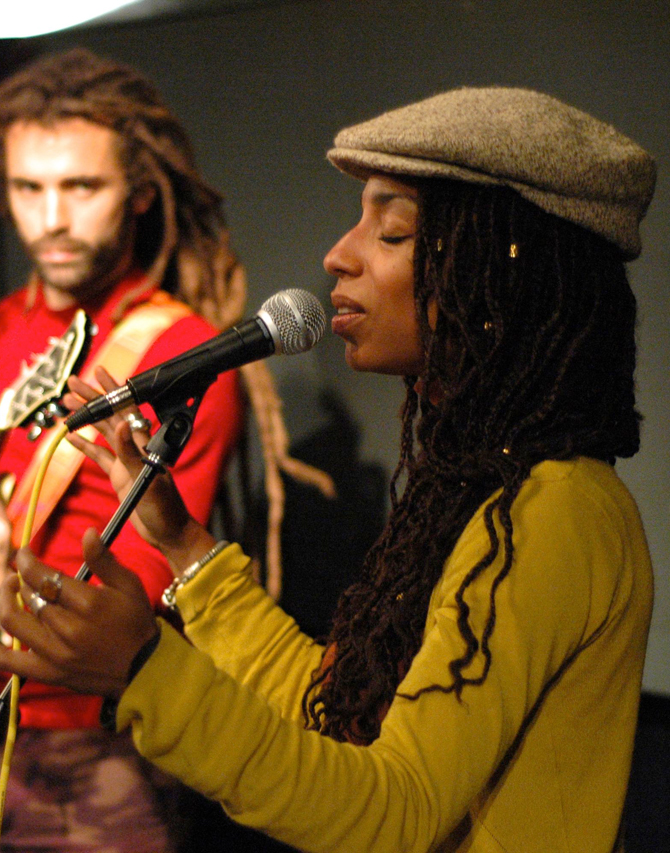 Meanness & The Profits

Feelin' Troubles
Coursing Through My Veins

I Pray Angels
They're healin' my pain

Meanness & The Profits
Are givin way too much leeway
it's better to forget it
And to believe in better days, days ,days

Let me tell You
We're all child of one
Life is better
With spirits on rise, rise, rise

But Meanness & The Profits
Are Givin way too much leeway
it's better to forget it

And to believe in better day, day ,day

Let Me x 4 Believe