Get inspired.
Get inspired.
Get inspired.
<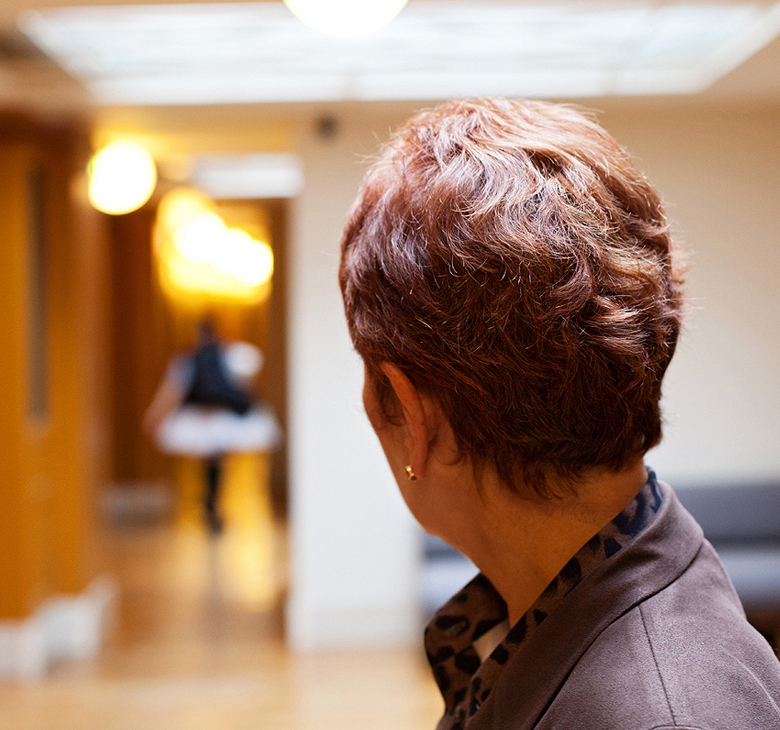 >
Brigitte Lefèvre
To summarise it a bit: you need to be very strong, but can never forget your vulnerability.
The Ballet de l'Opéra de Paris represents the pinnacle of classical dance - loved and led by Madame Brigitte Lefèvre. She was accepted at eight into the École de danse, where she learned self-discipline and freedom. Today, young dancers flock to her reverently when she enters a room.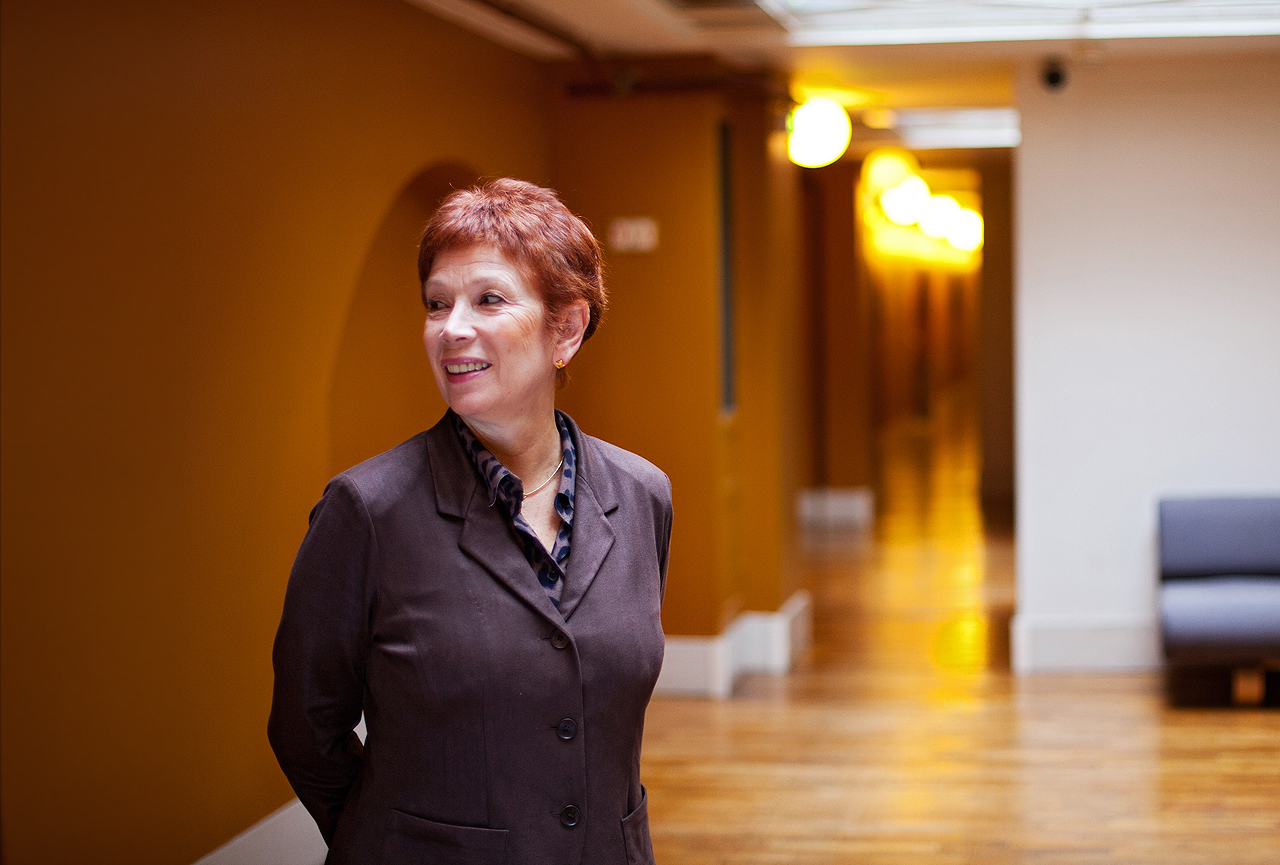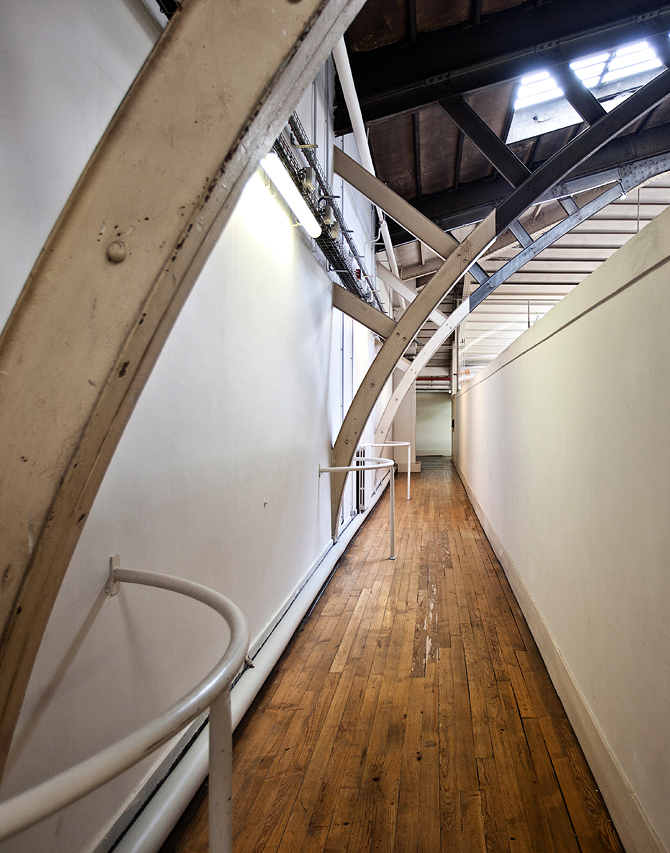 We enter Paris' Opéra Garner through the back entrance. Workers are loading heavy equipment into lorries. Lighting and sound equipment rolls past us. We stand in the middle of the hubbub – lost and in the way – in front of the small reception and wait. A young man, elegantly dressed in a suit coat and a bright red scarf, appears and asks us to follow him. "Madame only has 90 minutes". Pas de problème. We squeeze into a small wooden elevator with our equipment. Madame's assistant climbs up the stairs below us. He doesn't like elevators, he tells us with a charming smile.
Madame only has 90 minutes.
The offices of the École de danse are located in a small, unadorned hallway on the third storey. Small rooms with tiny windows with a view blocked by the opposing, massive Galeries Lafayette building, the Parisian shopping temple which can only be compared to KaDeWe in Berlin or Selfridges in London. An agile woman in a pantsuit with short hair shakes each of our hands. "Brigitte Lefèvre, enchantée…" She is 69 years old, and, for several decades now, the director of the Paris opera's world-famous ballet school. I ask her if we can conduct the interview in another, larger space. She shrugs her shoulders. "I don't have much time…"
We follow her through a maze of narrow corridors, take the rickety lift a few storeys up, and end up in the attic of the opera's rear maintenance area. Suddenly everything changes. Music fragments waft by and compete with one another, weaving a carpet of sound like a giant orchestra before the beginning of a concert. We can hear broken rhymth commands. Un – deux – trois. Even the smell is different.
Suddenly young dancers appear. Bags over athletic shoulders, ankles wrapped in thick socks. Young girls with hair pinned-up tightly and a light waddling duck-walk rumble over as soon as they see MADAME. We, who are following her, seem to be completely invisible. They excitedly blow air-kisses to one another, exchange a few words…a perfect scene. We follow Madame past countless practice rooms, and are already fascinated by the energy and atmosphere of this venerable and history-charged location which has been the backdrop for so many world-famous stories like "The Red Shoes" or "The Phantom of the Opera" Those are the legendary images I associate with the Paris opera and its myth, but this here – its real counterpart – is even better.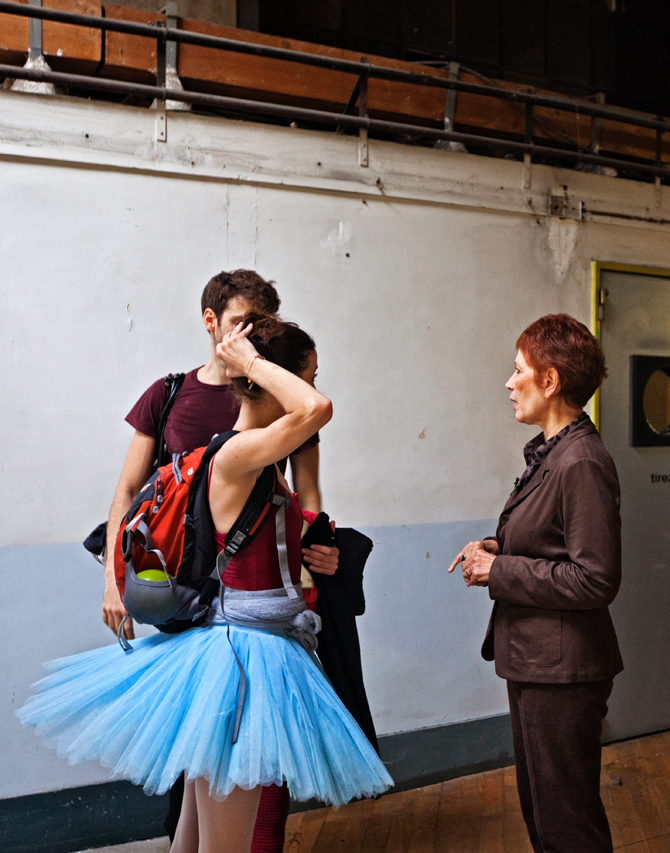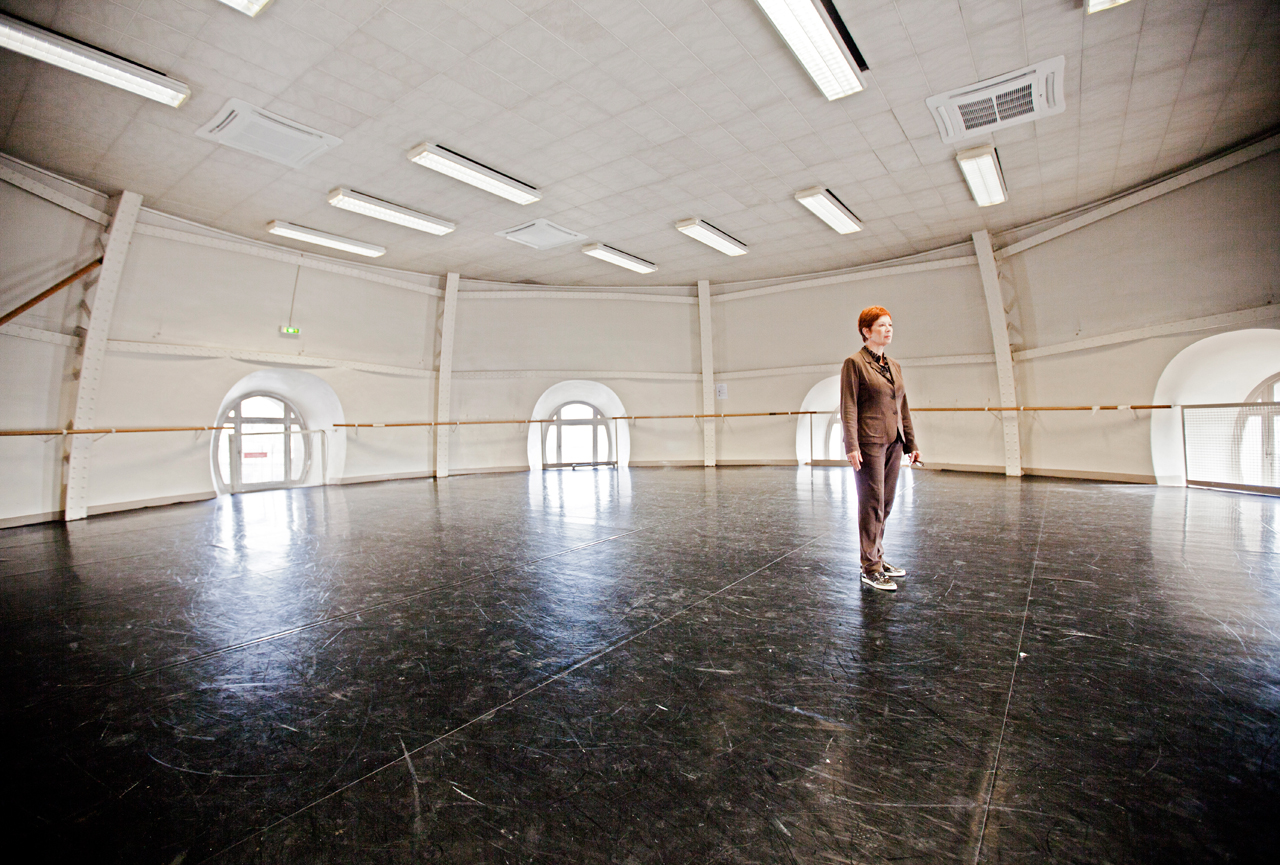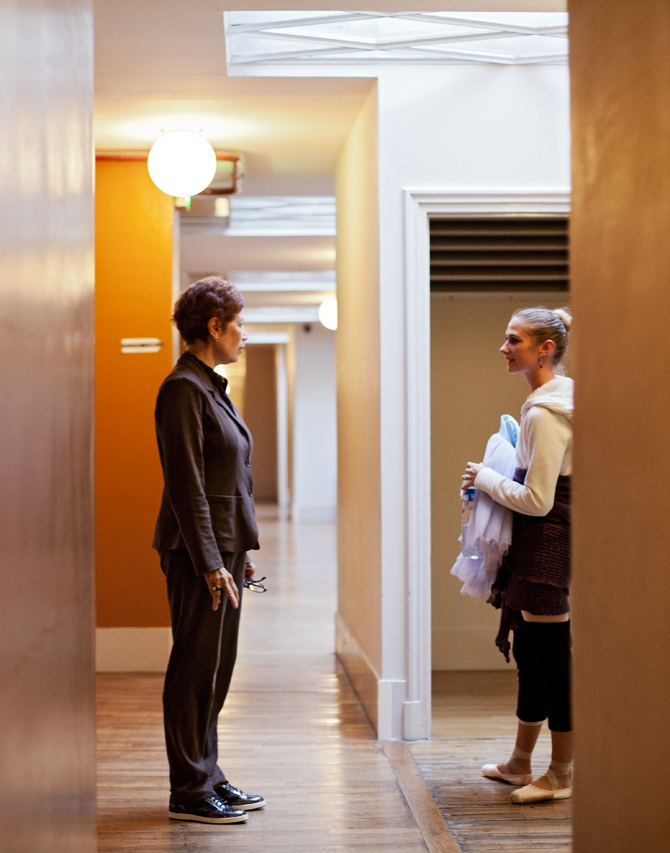 Everyday life in the Paris opera, and we're in the middle of it. Finally, a giant, round dome-like room opens before us, like the top third of a bullet that has been cut in half. A dozen floor-height small windows bathe the room in glowing light. I take one look outside, and my breath leaves me. LES TOITS DE PARIS – the rooftops of Paris.
Everyday life in the Paris Opera and we're in the middle of it.
Where are we?
"This room is called the Zambelli rotunda. Zambelli, that was my professor. She was a famous dancer at the beginning of the 20th century but she also taught for many years. I love these arches, these bars. We stand at the bars and do our exercises. It's a place that I love a lot. A historical room. It is rich with legacy; Nijinsky practised here, and then later, of course, Nureyev too, like all of the famous Opéra dancers who practised and danced in this room".
What kind of a kid were you when you were eight, and started here? What were your dreams?
"I was very happy I was accepted by the École de danse. It was a very hard entrance exam. But I was a very shy and withdrawn kid, and I'm very thankful to dance at the École de danse because they taught me that you need to express what you feel. Back then, I didn't have any dreams for the future: it was enough work to deal with reality, to get ahead everyday. And that, of course, was the pleasure of dancing".
Ballet taught me discipline and a sense for freedom
What did dancing teach you?
"With dancing, it's a bit of a paradox. Ballet taught me discipline – because, as it happens, you can't get ahead without it – and a sense for freedom. Because you needed to dance what you thought, felt and had learnt. And to this day, years later, I still have the feeling that I haven't learnt anything yet. But I shouldn't say that too loudly, because if too many people realise I'm unsure of myself, then that wouldn't be very good".
And there it is again, this mischievous, charming smile, self-deprecation that never seems coy. Brigitte seems ageless. Her dark eyes dart around, piercing not only through the room, but time itself.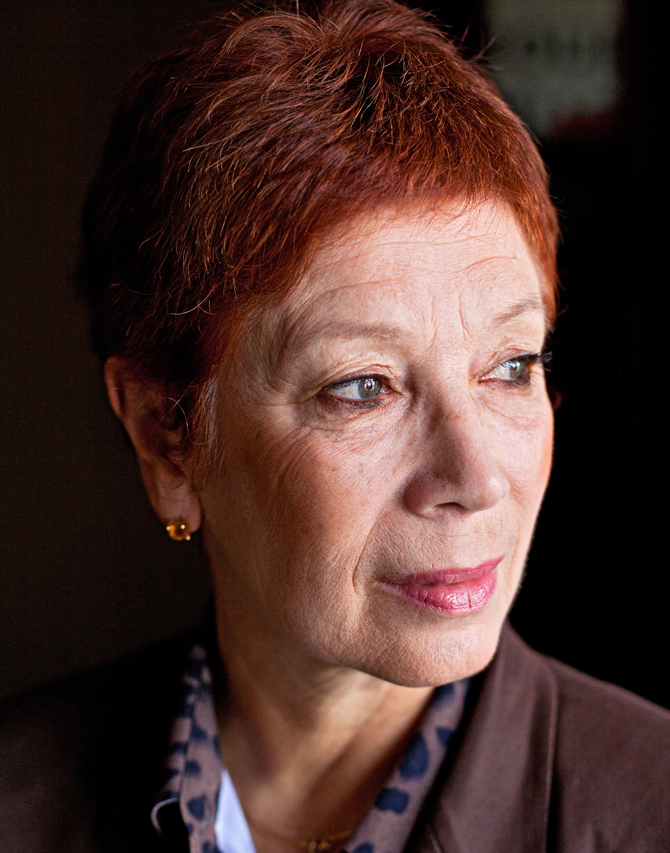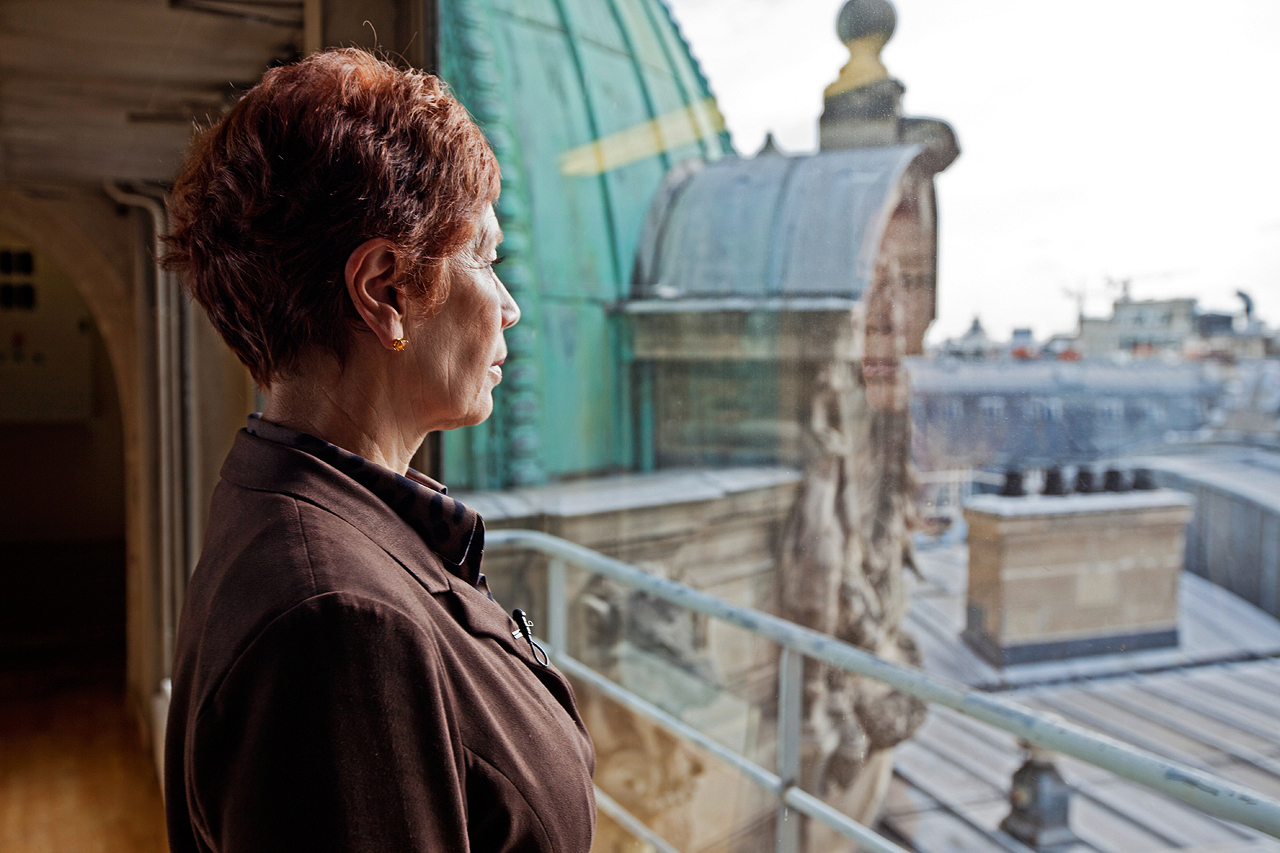 For a moment, I imagine a 360-degree pan that becomes faster and jumps back 10 years with every turn. Countless dancers appear in my mind's eye, patiently doing their exercises, pirouettes, Chopin music, Bach, commands that echo in the dome…un – deux –trois...
What makes ballet the most important art form for you?
"For me, ballet isn't the only one. I also have great love for theatre and music. Several years ago, I discovered visual arts for myself, a truly unconventional art form. But through dance I've got easier access to these things – I can join together different art forms".
Ballet can tell stories, or be abstract like a poem
"Soon, for example, we will be working with Daniel Buren, whom I admire greatly and I've asked to stage a production here. We've already done that with Claude Lévêque, and several other visual artists. We are also experimenting with music and with different forms of dramaturgy, because ballet can tell stories or be abstract like a poem, can make you cry, summon feelings. It can also force a person to think, to meditate".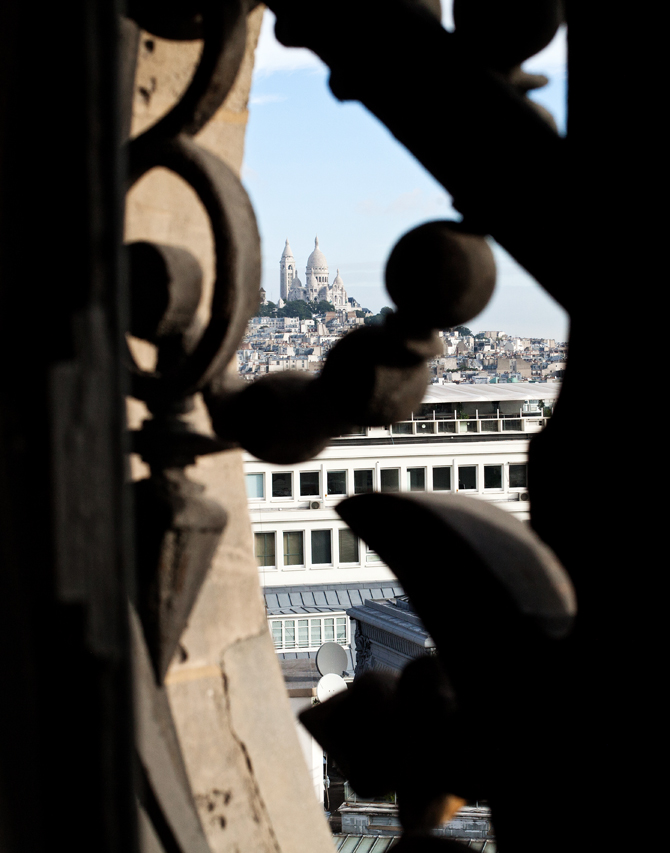 Brigitte Lefèvre is truly a master storyteller. It becomes clear to me what draws her students to her: She attracts attention in like a vacuum. Her charisma is irresistible. Her judgment feels quite simply like a verdict of life and death. Her assistant has entered and points to his watch. We need to get out of here. The next class is waiting to be let in. I only now notice a pianist has taken place behind an old piano and opened his score.
As Madame walks through the group, they all flock to her.
We follow Brigitte out and come upon a scene no Hollywood director could better have thought out: a half-dozen young dancers warming up in the glass passageway with a view of Paris' endless rooftops. One of the girls talks on her mobile, others stretch, their legs propped against the glass balustrade. A young man surfs on his laptop. When Madame walks through the group, they all flock to her. She exchanges a few words with each of them. I look at my watch.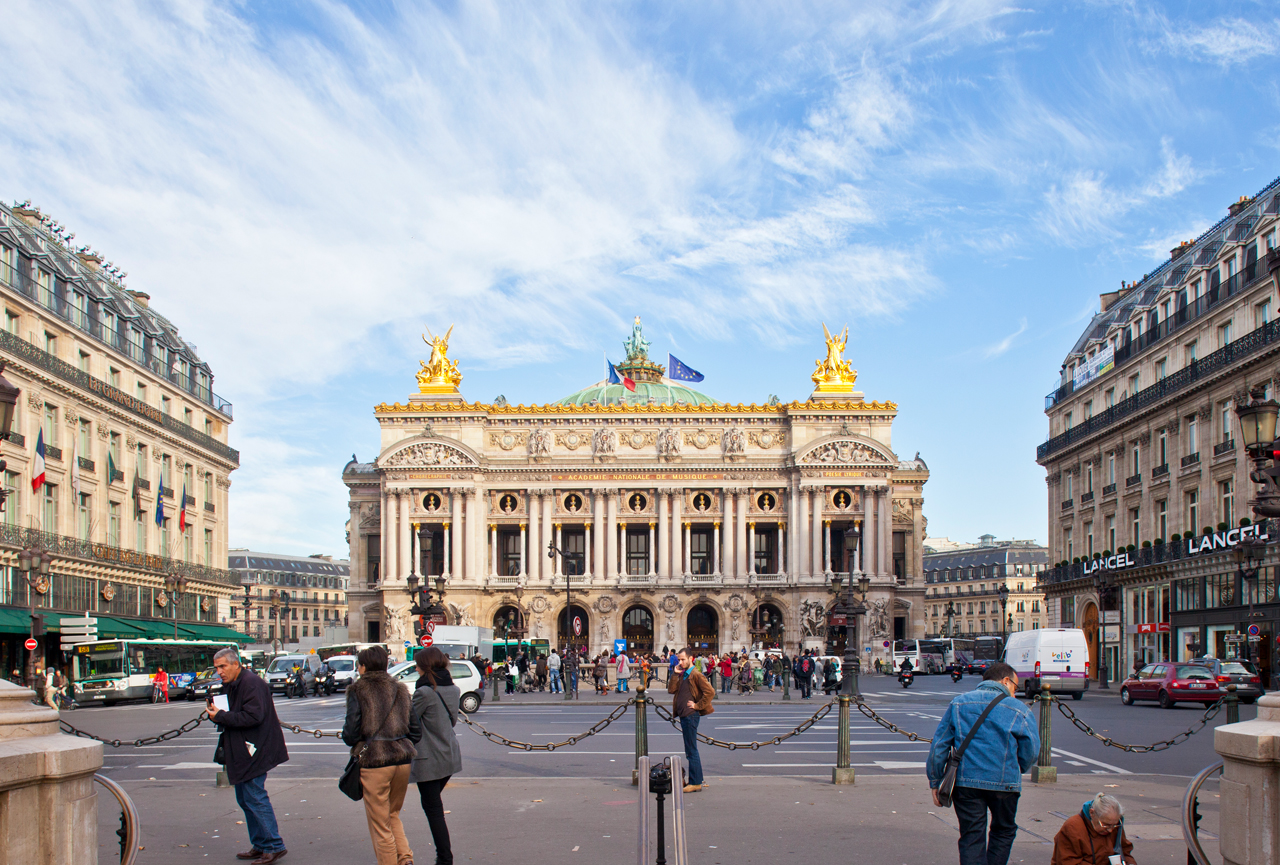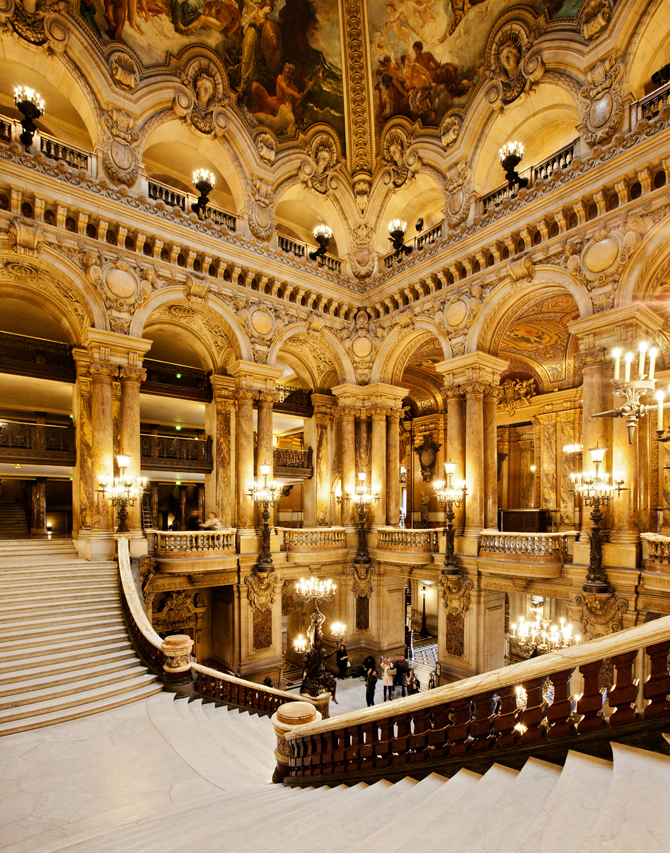 Can you explain to us how ballet classes are taught here? According to the same rules as back in the day?
"No, you can't speak of rules when it comes to ballet training. You can speak of schools, each with its own criteria, own references, own orientation points. At the Opéra we've always succeeded in inviting artists who integrate their art into the ballet from around the whole world, and these artists can then later also become teachers at the Opéra. As a result, we are constantly renewing ourselves. Even if we're talking about classical, academic dance, it never stops evolving".
Even if we're talking about classical dance, it never stops evolving.
I can imagine the competition in ballet is very stiff. How do you deal with it at your school?
"There are different levels of the ballet hierarchy, starting with the 'Quadrilles' and then the 'Coryphées', the 'Sujets', the 'First Dancers' and up to the master dancers, the so-called 'Étoiles', which everyone would like to become. So there's competition, but one particularity about the Opéra de Paris is that there is also a lot of loyalty. That means there is always a connection. I think this competition is something very natural, and maybe also necessary".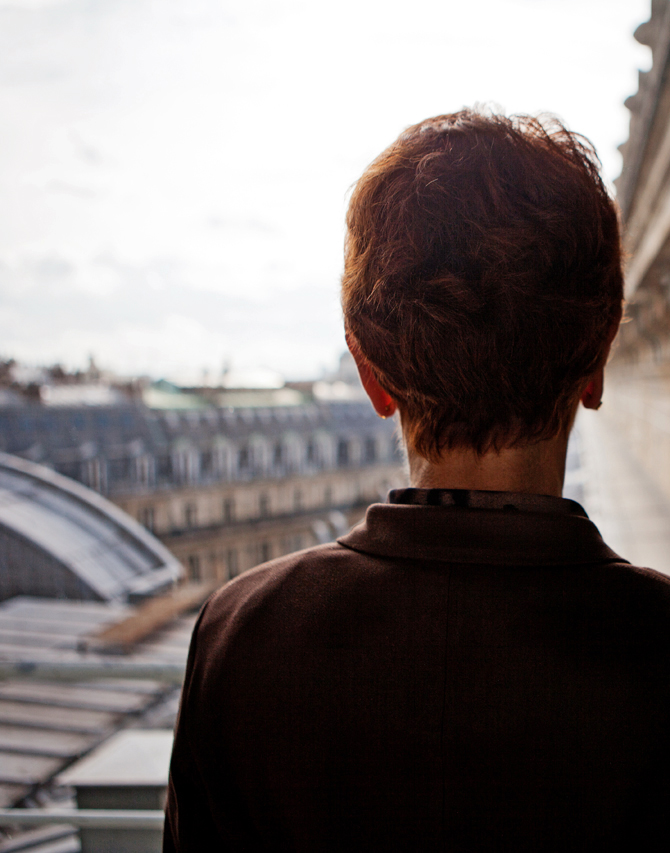 What qualities does a dancer need to have in order to become a professional?
"I think a dancer, female or male – people always think of the female dancers, but with the males it's the same and there are qualities that intersect, sometimes men have feminine qualities and women sometimes have masculine ones – I would say a dancer, in order to go professional, needs to be self-disciplined, not only disciplined but self-disciplined, and needs to have the feeling that dance is a passion as well as a profession, as well as very good technique".
To summarise it a bit: you need to be very strong, but can never forget your vulnerability.
"And then, you also need to be able to say who you are, express what your own desire for discovery uncovers. To summarise it a bit: You need to be very strong, but can never forget your vulnerability".
What counsel would you give a young girl who wants to become a dancer?
"I think you need to try it out, and the right amount of support from your family is important, but not too much support. I was lucky that my mother loved dance, and I loved my mother, and she wanted me to learn dance. I said to myself: She loves me, and she wants me to learn something I love, that's normal".
I was lucky that my mother loved dance, and I loved my mother, and she wanted me to learn dance.
"And that's how I went down my path as a dancer. But I also could have stopped if someone had told me, No, that's not for you. You embark on an adventure that can end early, because you need to have a specific figure, need to be skinny, courageous, flexible, but not too flexible. You need a kind of balance in the end".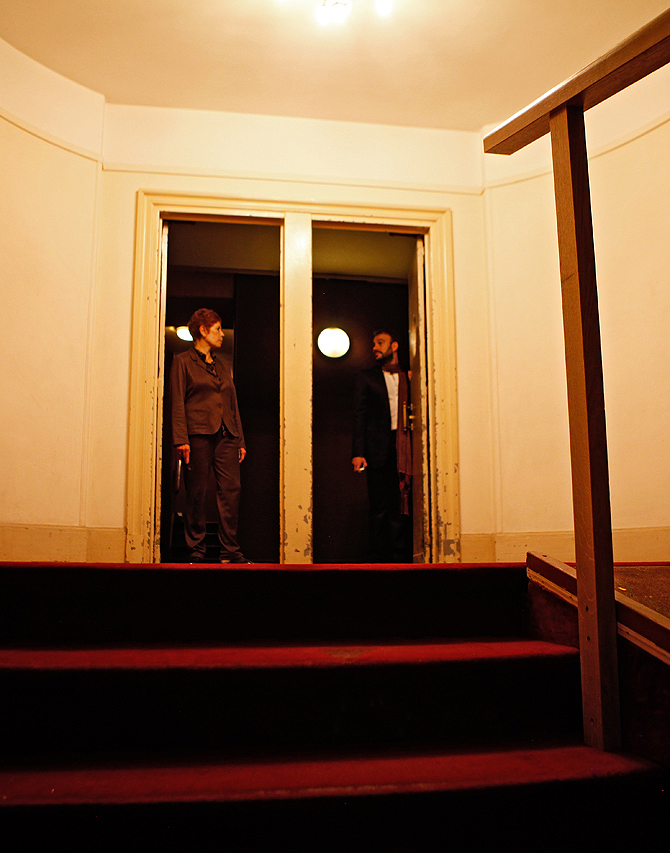 How do you explain ballet's ability to maintain its traditions for so long?
"I think ballet and dancers follow tradition because tradition is still constantly evolving. The goal is always the same, but dance continues to evolve. The generations keep evolving. I've been here for almost 20 years, and I can definitely see that times have changed. In about one year I'm going to leave the Opéra. My successor, Benjamin, is completely different, and he might live more in the now. There are things about contemporary times I treasure a lot, others I like less".
The goal is always the same, but dance continues to evolve.
Our time has come to an end. Madame's assistant raises his eyebrows – a signal that doesn't seem to tolerate any resistance. But Madame waves him off. "We still wanted to see the inside of the opera, n'est-ce pas?" Of course we want to. We embark on the long trip down and climb back into the elevator. Madame's assistant takes the stairs. We are once again alone.
What was the most moving moment in your dancing career, as impresario, in your current position as director?
"It's impossible to say which moment was the most moving. Life is moving. Life in the arts is moving, your personal life is moving. I could maybe say that the most exhilarating moment in my life was the birth of my granddaughter".
Why?
"Because dance is a part of life. That answer may sound strange. And of course now I'm remembering the moment when Pina Bausch, who was a friend, agreed to come, and we danced her choreography together for the first time. There are the pieces we made, the encounters with the artists; or the first time I danced on a stage – that all blends together in my memory. And in the end I can say that the moment that brings it all together, that was an honour for me, was to be there when my daughter brought her daughter into the world. For me, that all brings it all together: the work, the time, the patience, the courage and life".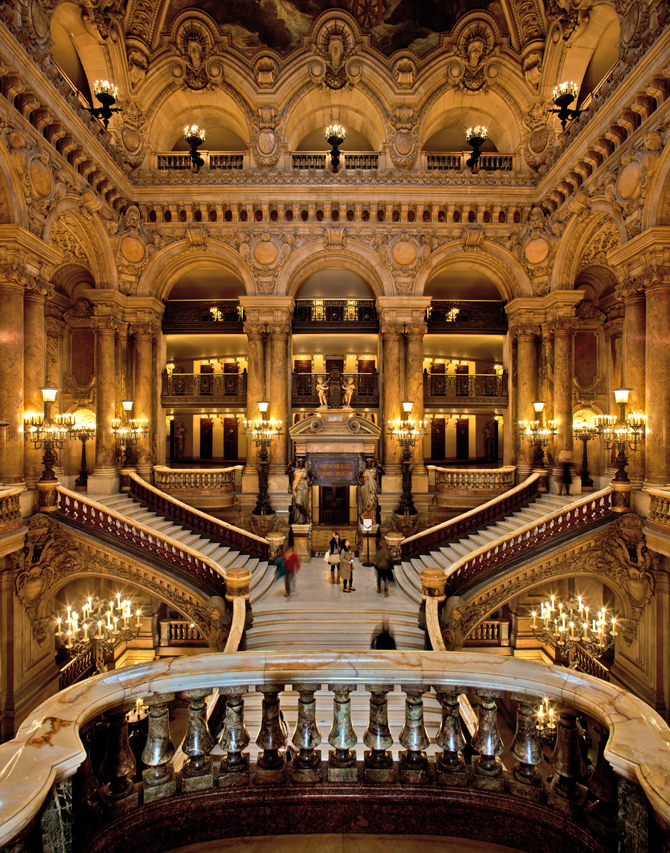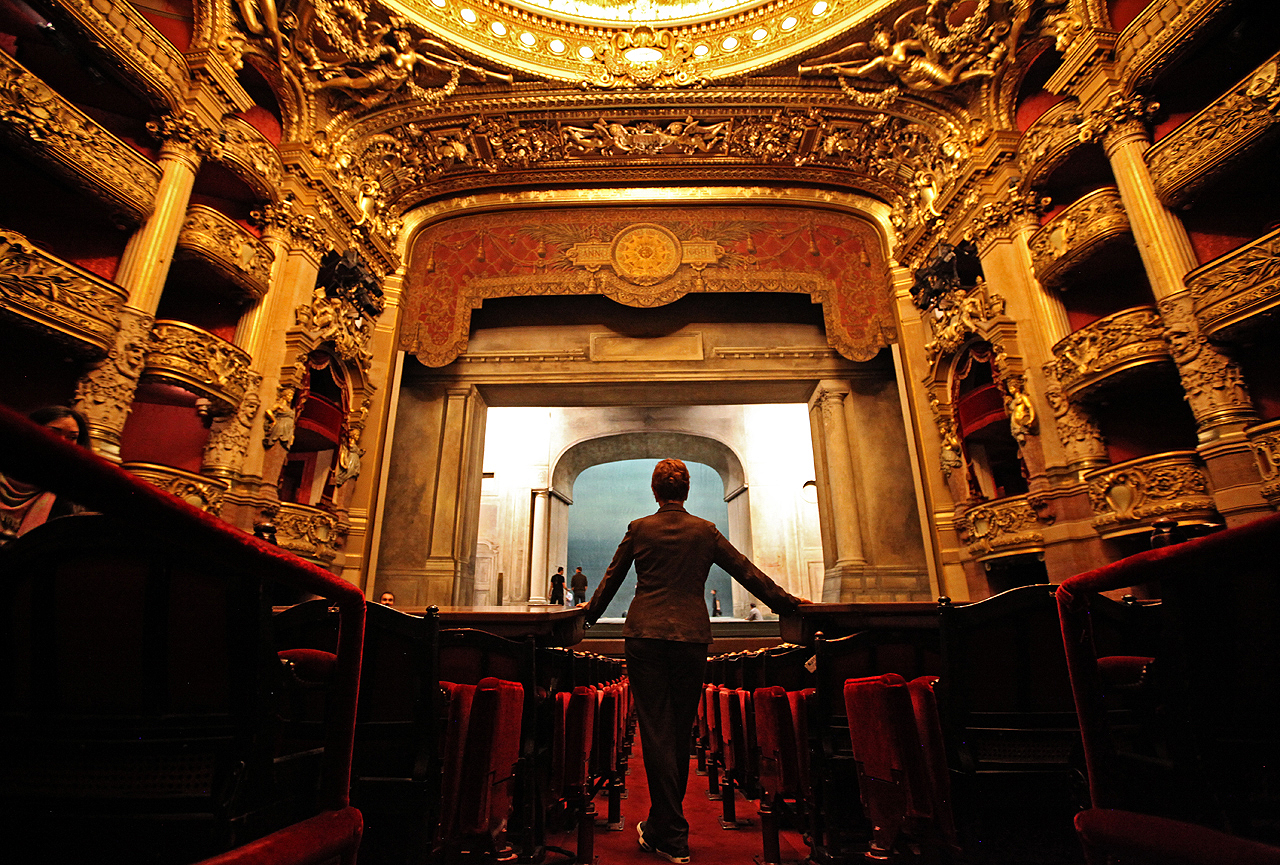 We are back on the ground floor and follow Brigitte through a neon-lit hallway, a heavy curtain opens and voilà, the opera's lobby opens before us. A man in a suit with a walkie-talkie immediately walks towards us. When he sees Madame, he gives a friendly smile. We walk past him and suddenly find ourselves in the magnificent interior of the auditorium: over 1,500 red seats stretching across five storeys, above us a giant rosette-shaped mosaic which bathes the hall in a pale light.
A heavy curtain opens and voilà – the opera's lobby opens before us.
A blocking rehearsal is currently taking place on the stage. And there is Madame's assistant again, this time asking us not to film the stage decorations. It's a new piece, top secret! Pas de problème, we're here for Madame, and she's enough for us. I follow Brigitte Lefèvre with my camera, through endless rows of empty seats. Finally, she sits down and watches the stage. I look at my watch: The 90 minutes are over. Brigitte stays in her seat, and watches the rehearsal. We don't want to bother her, and leave unnoticed.

Text by Jo Weissgerber
Photos by Martin N. Kunz, Jo Weissgerber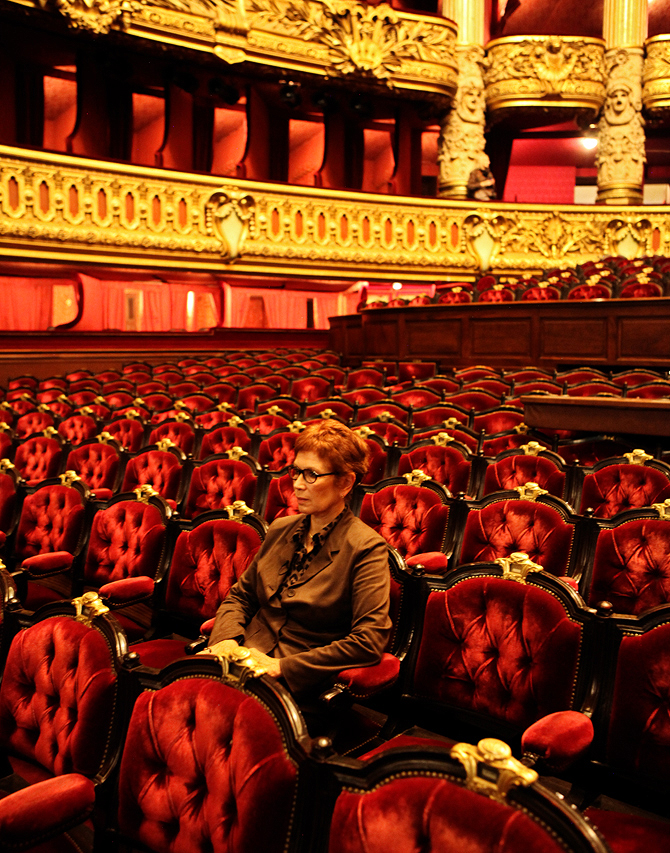 Brigitte Lefèvre footprints